FILM HOME PAGE
Films between 1919 & 1939
Films between 1940 & 1949
Films between 1950 & 1959
Films between 1960 & 1969
Films between 1970 & 1979
Films between 1980 & 1984
Films between 1985 & 1989
Films in 1990
Films in 1991
Films in 1992
Films in 1993
Films in 1994
Films in 1995
Films in 1996
Films in 1997
Films in 1998
Films in 1999
Films in 2000
Films in 2001
IMPORTANT & NOTEWORTHY FILMS
FEATURING ASIAN PACIFIC AMERICANS

During the year of 2002 (Part 1)

Click HERE to go to Part 2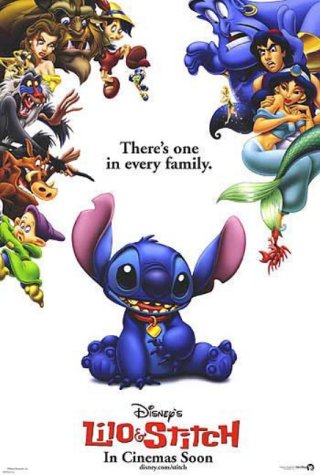 LILO AND STITCH


(2002)
Directed by Dean Deblois and Chris Sanders (III)
Cast: Daveigh Chase, Jason Scott Lee, Tia Carrere, Greg Finley, Jeff Fischer, Bill Asing, Jess Harnell, Daamen J. Krall, Todd Kurosawa, Kevin McDonald, Ving Rhames, Kevin Michael, Richardson, Chris Sanders, David Ogden Stiers, Chloe Looper, Courtney Mun, Susan Silo, Zoe Caldwell, Susan Hegarty, Amy Hill and Barbara Iley. Warm, funny, and imaginative, Lilo & Stitch is the best animated feature the Walt Disney Studios have produced in years. On the planet Turo, mad scientist Jumba Jookiba (voice by David Ogden Stiers) has created a miniature monster programmed for destruction. When the monster escapes to Earth, it's adopted as a pet and named "Stitch" by Lilo (Daveigh Chase), a lonely little Hawaiian girl. Lilo and her older sister Nani (Tia Carrere) have been struggling to stay together since their parents died. Stitch and Lilo share some hilarious adventures, evading welfare officer Cobra Bubbles (Ving Rhames) and galactic police agents. They learn the timely lesson that a family can be something you're born into--or something you assemble. A warmth and sincerity that recall The Iron Giant and the films of Hiyao Miyazaki make Lilo a delightful fantasy adults and children can truly enjoy together.

Editor's Note: It was great that Disney has incorporated Tia Carrere, Jason Scott Lee and Amy Hill in this movie, especially in light of the lack of diversity seen in network television. Read an interview with Jason Scott Lee and Tia Carrere regarding their participation in the film. To view the trailer, please click HERE to view the clip.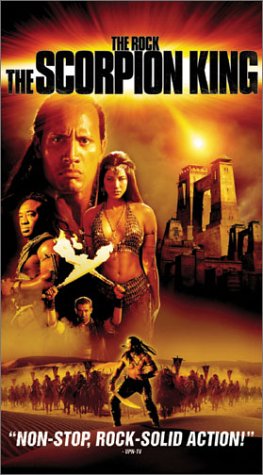 THE SCORPION KING

(2002)

Directed by Chuck Russell
Studio: Universal Studios
Cast: Dwayne Johnson (The Rock), Michael Clarke Duncan,.Steven Brand, Roger Rees, Sherri Howard, Conrad Roberts, Joseph Ruskin, Yuki Tokuhiro, Al Leong, Woon Young Park, Marcus Young,
There's nothing original in The Scorpion King, but this derivative action franchise gets off to a rousing start by cleverly stealing from a lot of better movies.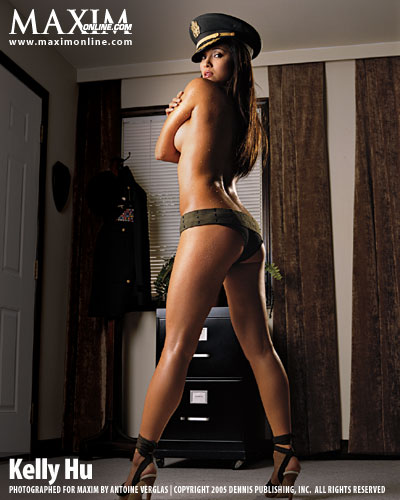 Capitalizing on his brief cameo in The Mummy Returns, Dwayne Johnson (a.k.a. World Wrestling Federation star the Rock) stars as Mathayus, an Akkadian assassin in the age preceding Egyptian pharaohs, who vows to avenge his brother's murder by an undefeated warlord (Steven Brand) prophesied to become the desert-ruling Scorpion King.
Their battle for supremacy comprises most of the film's brisk 95-minute running time, punctuated by comic relief from Mathayus's obligatory sidekick (Grant Heslov), romance with a beautiful sorceress (Kelly Hu), and alliance with a massive Nubian (Michael Clarke Duncan) on the eve of their climactic showdown.
There's no rhyme or reason to the film's depiction of ancient civilization (the costuming is particularly ludicrous), but the Rock demonstrates adequate action-star potential, and director Chuck Russell (The Mask) wraps it all in a slick, professional package
Side Note: It was good to see Asian Pacific American actors such as "The Rock" (half Black/Half Hawaiian) and Kelly Hu being featured in a major movie. Read about their experiences in this film.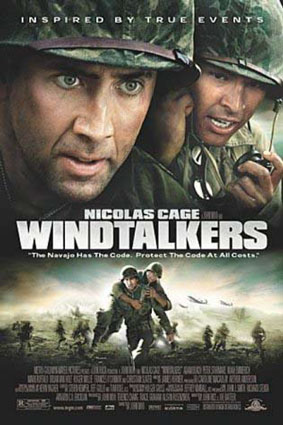 WINDTALKERS

(2002)

Directed by John Woo
Cast: Nicolas Cage, Adam Beach, Peter Stormare, Noah Emmerich, Mark Ruffalo, Brian Van Holt, Martin Henderson, Roger Willie, Frances O'Connor, Christian Slater, Jason Isaacs, Billy Morts, Cameron Thor, Kevin Cooney, Vincent Whipple, Chris Devlin, Ross Lasi Tanoai, Brian Kasai, Hiroshi Mori, John Takeshi Ichikawa, Christopher T. Yamamoto, Steve Tanizaki, Aaron Yamagata, Victoria Chen, Carissa Jung, Wataru Yoshida, Junya Oishi, Jiro Koga, Lynn Kawailele Allen, Tina Leialoha Gube, Alewa T. Olotoa, Ilima Pumphrey, Lena Savalinaea
Having earned Hollywood's respect with blockbusters like Face/Off and Mission: Impossible 2, Hong Kong action master John Woo lends his signature style to serious World War II action in Windtalkers. Recognizing the long-forgotten contribution of Navajo "code talkers," whose use of an unbreakable Navajo-language radio code was instrumental in defeating the Japanese, the film serves as an admirable tribute to those Native American heroes. Unfortunately, it falls short of importance with its standard-issue story about a battle-scarred sergeant (Nicolas Cage) assigned to protect a code-talker (Adam Beach, from Smoke Signals), with unspoken orders to kill him if Japanese capture is imminent. This allows for an involving drama of hard-won friendship, but cardboard supporting characters suffer in the shadow of nonstop action that's as repetitious as it is technically impressive. Windtalkers is best appreciated as a more substantial vehicle for Woo's trademark ballet of bullets.
Click HERE to view a trailer of the film.
EIGHT-LEGGED FREAKS

(2002)
Director: Ellory Elkayem
Screenwriter: Ellory Elkayem
Screenwriter: Jesse Alexander
Producer: Dean Devlin
Producer: Bruce Berman
Executive Producer: Roland Emmerich
Executive Producer: Bruce Berman
Executive Producer: Peter Winther
Executive Producer: William Fay
Co-Producer: Kelly Van Horn
Composer: John Ottman

Cast: David Arquette, Kari Wuhrer, Scarlett Johansson, Scott Terra, Leon Rippy, Doug E. Doug
What do you get when you cross toxic waste with a bunch of exotic spiders? Eaten. As every fan of classic spine-tinglers knows, given the opportunity and the right chemical enhancement, arachnids will grow to humongous size and wreak havoc upon humanity. In "Eight Legged Freaks" the residents of a rural mining town discover that an unfortunate chemical spill has caused hundreds of little spiders to mutate overnight to the size of SUVs. And they're hungry.
When the alarm is sounded, it is up to mining engineer Chris McCormack (Arquette) and Sheriff Sam Parker (Wuhrer) to mobilize an eclectic group of townspeople, including the Sheriff's young son, Mike (SCOTT TERRA), her daughter, Ashley (SCARLETT JOHANSSON) and paranoid radio announcer Harlan (DOUG E. DOUG), into battle against the bloodthirsty eight-legged beasts
Read how Dean Devlin, Roland Emmerich, Ellory Elkayem and Bruce Berman share their common love for low-budget B-movie thrillers of the 1950's and early 1960's brought them together for this project.
THE TUXEDO

(2002)
Directed by : Kevin Donovan
Cast: Jackie Chan, Jennifer Love Hewitt, Debi Mazar, Jason Isaacs, Peter Stormare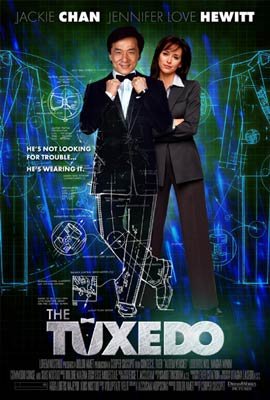 Cabbie-turned-chauffeur Jimmy Tong (Jackie Chan) learns there is really only one rule when you work for playboy millionaire Clark Devlin (Jason Isaacs): never touch Devlin's prized tuxedo.
But when Devlin is temporarily put out of commission in an explosive "accident," Jimmy can't resist trying on the tux and soon discovers that this extraordinary suit may be more black belt than black tie.
Suddenly thrust into a dangerous world of espionage, paired with a rookie partner (Jennifer Love Hewitt) even less experienced than he is, Jimmy becomes an unwitting-if impeccably dressed-secret agent.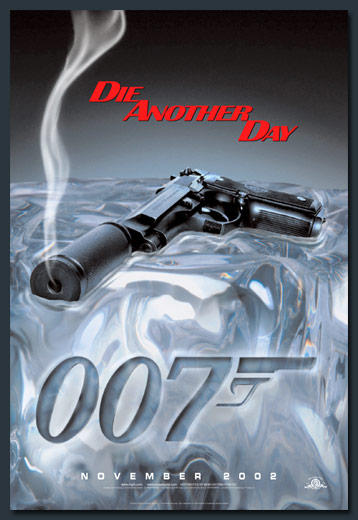 DIE ANOTHER DAY

(2002)
Director: Lee Tamahori
Producers: Michael G. Wilson and Barbara Broccoli
Theme Song: Madonna
Distributor: MGM (US)/20th Cent. Fox (Intl.)
Cast: Pierce Brosman, Halle Berry, Samantha Bond, Toby Stephens, Rosamund Pike, Rick Yune, Lawrence Makoare, Rosamund Pike, Colin Salmon, Toby Stephens, Michael Madsen, John Cleese, Will Yun Lee, Madonna and Judi Dench
The general plot (as written by Neal Purvis and Robert Wade) revolves around a North Korean leader (Yune), who uses an experimental "facial mutation" device that allows him to take on new appearances... (turning into Stephens) until it goes wrong, leaving his face half mutilated.
The opening of this Eon Productions and Pinewood Studios production, in which James Bond is an escaping prisoner of war set in Hawaii, involves surfing and water skiing. (Madonna plays a fencing instructor; Madsen and Berry play U.S. secret agents)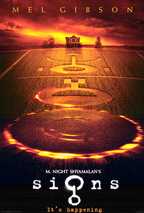 SIGNS

(2002)
Director, Producer & Screenwriter: M. Night Shyamalan
Producers: Frank Marshall, Kathleen Kennedy
Photographer: Tak Fujimoto
Music: James Newton Howard
Cast: Mel Gibson, Joaquin Phoenix, Patricia Kalember, Cherry Jones, Rory Culkin, Abigail Breslin
"Signs" is a thriller set in Bucks County, Pennsylvania and is about the strange appearance of five-hundred-foot-sized circles and lines in a farm family's crop fields.
Family patriarch Graham Hess (Mel Gibson), a man of the Christian faith, struggles to learn the truth behind the bizarre mystery. Merrill Hess (Joaquin Phoenix) is Graham's brother and a former minor league baseball star.
The family is rounded out by Graham's two children Bo and Morgan (Abigail Breslin and Rory Culkin, the younger brother of Macaulay and Kieran).

M Night Shyamalan Background
He was born Manoj Nelliyattu Shyamalan in the Tamil-Nadu province of India. His cardiologist father and obstetrician mother groomed him for a medical career.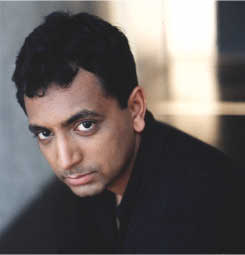 Despite his parents' plans, M. Night Shyamalan was given a Super-8 camera by age 8 and completed 45 home movies by age 17.

The Indian-born, Philadelphia-bred aspiring Spielberg opted to attend NYU's film school rather than Penn's premed program. While in college, his various screenplays included future films such as Wide Awake" (1997) and Praying With Anger (1992) - which was made for $750,000 that included Denis Leary, Dana Delany, Robert Loggia and Rosie O'Donnell in the cast.

His first success was the 1999 successful supernatural thriller "The Sixth Sense" that he written and directed, which he followed up with "Unbreakable." Shyamalan drafted the original script of the "Sixth Sense" while working on the rewrite of the E.B. White children's classic Stuart Little. Through his production company, Blinding Edge Pictures, "The Sixth Sense" offered Bruce Willis a fine showcase but young Haley Joel Osment emerged as the real star.

The 2002's "Signs" was based on a spec script written by M. Night Shyamalan which Disney reportedly purchased for eight-figures after only one day's review. Since Shyamalan's previous two movies have grossed over $1 billion for Disney, it was an easy decision. Shyamalan previously received $10 million upfront for "Unbreakable."

Click HERE to go to Part 2





site design by Asian American Artistry
for any questions regarding the content, please contact Asian American Artistry
Copyright © 1996-2003 - Asian American Artistry - All Rights Reserved.